It's the beginning of the year and time to start anew, bringing more success and prosperity.
Getting people into your flower shop and converting "lookers" into buyers can be challenging, especially with the many online options available nowadays. So, how do you entice people to come in and to keep coming back?
Luckily, many people love a personal touch and still prefer doing business in person, which helps you establish that relationship; also, it inspires word of mouth, which is the best type of promotion for your shop.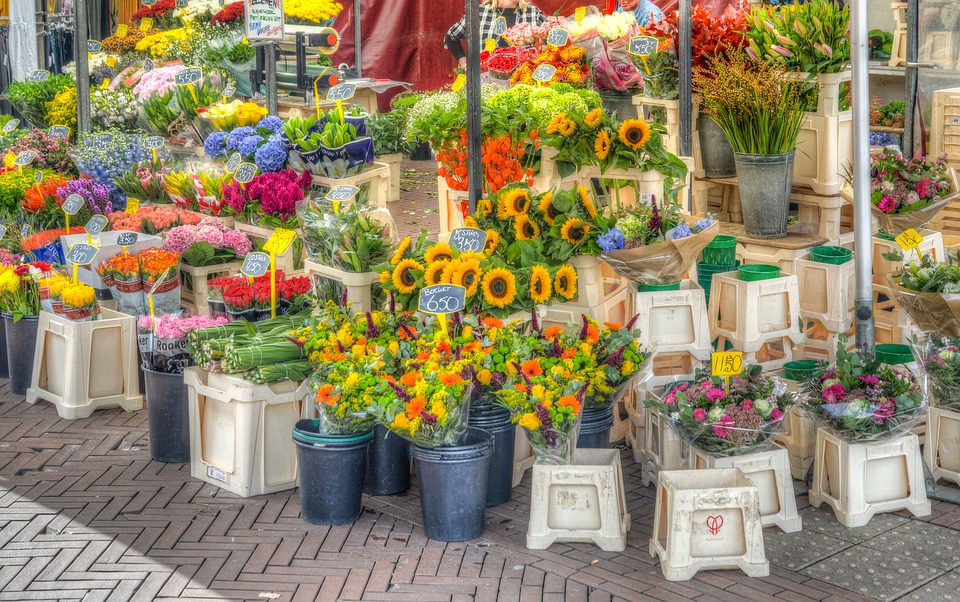 We put together 19 tips to help you increase foot traffic to your flower shop and sales in 2019:
1. Cultivate Existing Clientele
Start by leveraging your existing customers - cultivating walk-in traffic and delighting current patrons means going above and beyond – so they want to continue supporting your flower shop.
Establish a personal connection with each customer whenever possible; be genuine, personable, and attentive.
2. Add A Personal Touch
Send a handwritten note or make a personal phone call thanking your customers for their order.
3. Have an "Early-bird" Sale
Whenever someone makes a purchase, or even when they are just considering buying from you in the future, add their email address and/or phone number to your database, so you can stay in touch.
Have an "early-bird" sale for them before you announce the upcoming sale to the general public.
4. Send Birthday Wishes
Capture your customers' birthdays, and send out Happy Birthday emails or cards with a birthday surprise or percentage off when they come into your flower shop during their Birthday month. You can use the POS system on your computer.
5. Examine The Look of Your Shop
Take an objective look at your window display – does it appeal to your target buyer? How visible and inviting is your signage?
6. Assess The Traffic and Demographic
If you can, sit outside of your flower shop, or sit by the window inside and observe. Who passes by your store, what's the demographic? Do they window shop? Are there other stores close by where people seem to go in? Do people stop and look at your shop windows? When is the busiest time of the week in front of your shop?
Then start considering different ways to optimize your merchandise and window display to attract more customers at the busiest time on your street/block.
7. Utilize The Store Front
You or your employee can stand outside your shop and hand out coupons, promotions, or upcoming events.
8. Decorate The Outside of Your Shop
Make sure to decorate outside your shop doors with pots overflowing with beautiful flowers in all seasons – you want to make people excited to stop and see what's in the inside of the shop.
You can also put out some flower buckets – perhaps it's the new kind of flower you have, or flowers that have special deals.
9. Give Them a Reason to Stop In
Try different approaches to get people into your flower shop. Brainstorm ideas with your staff and other business owners/friends about what draws them into different shops.
10. Free Giveaways
Have a raffle to entice customers to stop in, such as a raffle for an arrangement a month for six months or something similar that is significant enough for people to want to stop in to add their name. This helps create a sense of connection to your shop for your customers, and can also instill a feeling of indebtedness from the consumer.
11. Birthday Calendar
Put a large Calendar Date of the current date on your outside window, with a clearly visible sign that says if your birthday is that day, come on in for a Free Gift! You can also put random dates to generate interest and surprise.
12. Free Gift with a Purchase
With each purchase of a bud vase or arrangement (or when they spend certain dollar amount) give a free gift, such as a teddy bear or chocolates.
13. What's Your Name?
An easel can be placed out front with a different name on it everyday. If you see your name there, you can come in to receive a free rose that day; it can be different flowers, and alternating male/female names.
14. Host Events
Hosting events is one of the best ways to get people to come to your flower shop – they are experiences that cannot be found online or in most other shops. Make sure to publicize your events in-store, via press releases, online, and in any other method you use for advertising.
Have workshops on spring designs, summer container gardening, or holiday wreaths, to get shoppers into the store. People get excited about learning new things and sharing what they made on social media and word of mouth.
Partner with like-minded stores, artists and organizations to host events – it could be a designer showcase, a talk by a local artisan, or a fundraiser. This is an opportunity to draw in more traffic, offer something unique, and grow your own fan-base as well as your relationships with individuals and organizations in your community.
15. Be Unique
Source locally, use different packaging such as recycled paper or hatboxes, focus more on individualized custom products and feature unique and hard to obtain flowers, be authentic on social media, etc.
16. Upsell
Once the customer has already decided to purchase something in your shop, utilize the connection you already have with them and focus on four points of florist upselling:
Collect information - find out as much as possible about why your customer is purchasing their flowers and bring up additional product they may not have thought of.
They will appreciate you expressing genuine emotion about the occasion for the flowers.
Wait until the customer has already decided to buy something so you're not appearing pushy, but like you offer great customer service.
Make the upsell affordable - upsold products should increase the purchase by not more than 25 percent total.
Upsell with a purpose - always upsell items and services that match your customer's floral purchase and needs.
17. Train Your Staff
Everyone in your flower shop should be taught and expected to sell and upsell following the best practices.
18. Use Technology
Make sure your customers know where to find you on social media and then give them a reason to follow and like you by engaging with them on a more personal level, and also to keep them posted about any in-store promotions, upcoming events, etc.
You can show your staff working, the beautiful flowers of the season, how you decorated your home for a special occasion, etc. A fun thing to do is post a design that's a "pick-up only" arrangement; give it a name (exp. "Friday Flowers") and share photos of customers picking up their designs; you can say there is a limited amount of these designs available to promote urgency.
Send out regular updates about new product lines, company news and events via emails.
19. Smile
While there are many different ways to bring in more traffic, remember that the main reason many customers support small businesses over larger chains is for the personal relationships, so make sure you and your team have what it takes. Whether someone comes in just to ask a question, or wants to buy something, offer a smile, great service, product knowledge and enthusiasm – it certainly helps bring customers through your door and keep them coming back to your flower shop, increasing your sales.
For all your wholesale fresh flowers and other floral supplies, turn to Schaefer Wholesale Florist (SWF), your trustworthy local wholesaler.
SWF has been serving the Mid-Atlantic area since 1958 as an importer-broker of fresh-cut wholesale flowers from around the world, proudly serving Event/Wedding Planners, Family Owned Grocery Stores, Retail Flower Shops and Wholesale Flower Shops in the Mid-Atlantic region.
For details and to learn more about SWF visit us today: www.SWFlorist.com