It is the season for holiday parties, weddings, celebrations and special occasions that will all be enhanced with magnificent floral arrangements.
This fall and winter, encourage your customers to create something special and give their celebrations a floral boost – here are some ideas for stunning Thanksgiving and Christmas flower arrangements:
White Pumpkin Arrangement
Create a lovely Thanksgiving flower arrangement by putting your blooms in a water-filled vase - inside a hollow white pumpkin. The contrast between the rich floral tones and white pumpkin will provide a playful, romantic, and elegant design.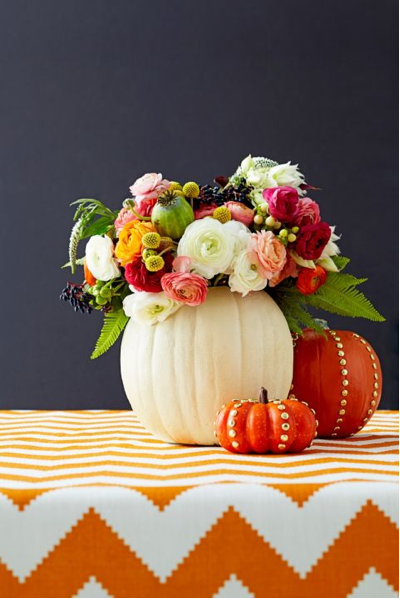 Photo Source: Good Housekeeping
Floral Richness in a Pumpkin
Create a centerpiece using warm and rich colors of the autumn flowers, adorn with seasonal foliage, and arrange it in a lovely big pumpkin (they make a good natural container for flowers!).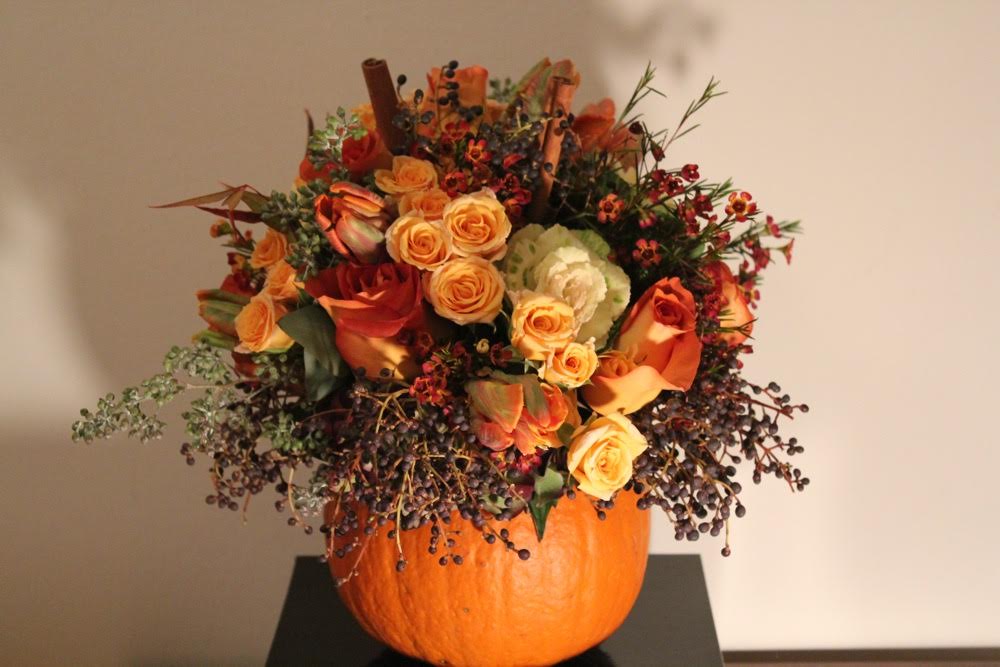 Image source: Home Design Ideas
This is a beautiful, eye-catching arrangement for a Thanksgiving party, or you can skip the pumpkin for a special occasion bouquet. Play with decorating with dried greenery, oak leaves, acorns, figs and ornamental cabbage, cinnamon sticks – they will add seasonal touch and enticing smell to the floral arrangement.
Festive and Playful
For a simple elegance and youthful allure, mix some fuchsia or red tulips with white and green flowers and plants and create a stunning Christmas floral décor.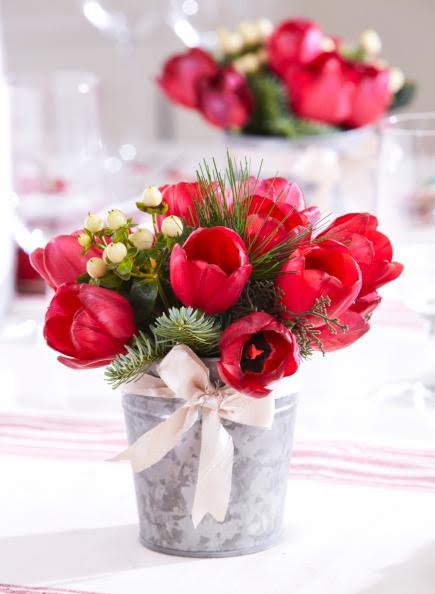 Arrange French tulips together with pine branches and any white berries, place the arrangement in a metal pail or silver vase and adorn with a festive ribbon.
Lush and Modern
Create a holiday floral bounty with a modern twist, as featured here by the floral designer Lindsay Coletta.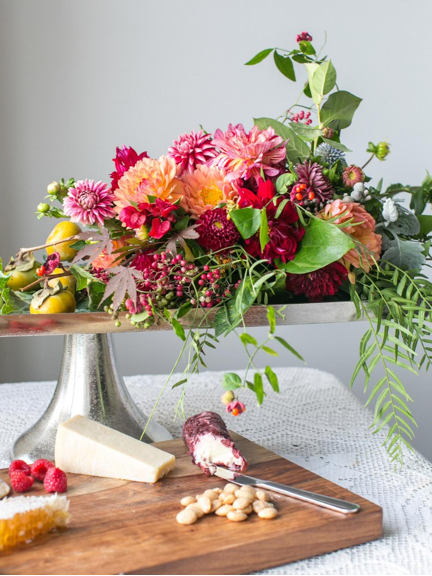 Photo source: hgtv.com
You can use wet floral foam to anchor this luxurious arrangement of greenery and opulent dahlias, persimmon branches, ornamental cabbage, and anything else that you'd like to add for a splash of color.
Pastoral and Refined
Create a show-stopping floral arrangement with vibrant colors and a bit of contrast, such as this alluring design by Erinn Valencich, who contrasted both colors and styles.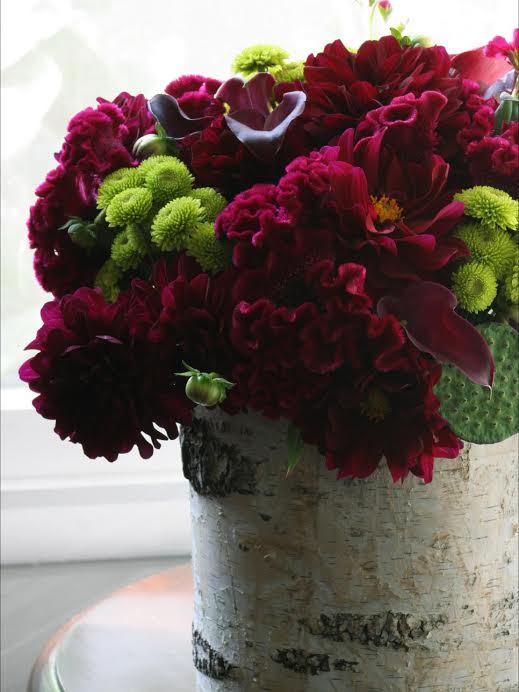 Arrange color-popping and sophisticated calla lilies, dahlias, magenta cockscomb, and chartreuse mums in an earthy and rustic birch-bark container.
Brighten up any venue and banquet, ceremony, reception, or celebration and provide the wow effect with these elegant, playful, rustic, or fun Thanksgiving flower decorating ideas and Christmas flower arrangements.
Popular fall season flowers include: Asiatic Lily, Asters, Calla Lilies, Chrysanthemums, Dahlias, Gladioli, Marigolds, Roses, Sunflowers, Zinnias Clo, Orchid, Amaranthus, Anemone, Bittersweet, Carnation, China berry, Echinops, Freesia, Gerbera Daisy, Hypericum, Iris, Juniper, Kangaroo paw, Kalanchoe, Liatrus, Lily, Allium, Misty Blue, Berry, Protea, Roses, Statice, Star of Bethlehem, Sunflower, Yarrow, Zinnia.
Seasonal winter flowers include: Amaryllis, Anemone, Camellias, Cyclamen, Evergreens, Casablanca Lilies, Forget-me-nots, Lily, French Tulips, Gardenias, Holly, Chrysanthemums, Jasmine, Orchids, Mini Gerberas, Narcissus Paper Whites, Poinsettias, Roses. Excellent additions to beautiful seasonal bouquets and attractive celebratory centerpieces include berries, holly, pinecones, bark, and evergreens.
For all your wholesale fresh flowers and other floral supplies, turn to Schaefer Wholesale Florist (SWF), your trustworthy local wholesaler.
SWF has been serving the Mid-Atlantic area since 1958 as an importer-broker of fresh-cut wholesale flowers from around the world, proudly serving Event/Wedding Planners, Family Owned Grocery Stores, Retail Flower Shops and Wholesale Flower Shops in the Mid-Atlantic region.