Whether you're new to the floral industry or you've worked hard over many years to build up your flower business, as you set your intentions and goals for the New Year - improving your business and bringing more success and prosperity is likely one of the top things on your list.
So, what are the things that can have the biggest impact on your business success?
Here are some ways to increase your flower shop profits - and your overall happiness factor, too:
Laser-Focus on Customer Service
The thing that defines your brand the most is the experience you create for your customers.
Even if you've been in business for decades, ensure you and everyone on your team focuses on delivering a first-class customer service experience at all times.
Leverage your existing customers and cultivate new clientele - establish a personal connection by being attentive, personable, and genuine with each customer whenever possible.
Make the effort to send handwritten Thank You notes and/or emails and wish your customers a happy birthday or anniversary (use software to make this quick and easy); you can also add a discount or free gift. Have an "early-bird" sale for your current customers before you announce the upcoming sale to the general public.
Work On Attracting Your Perfect Clientele
If you want to find better clients, set boundaries and rules for your business and then create a better customer experience.
It's happened to all of us at least once, customers pushing our limits, and it's up to us to define the boundaries by creating our own rules, such as being very specific in your proposals and offers, adding an expiration date on proposals, or stating minimums clearly.
Periodically, you may want to revisit and refine your pre-qualification systems. The important thing is to feel confident when explaining terms to clients, strive for prompt email replies, prompt phone consultations and prompt proposals, be clear and precise, so customers can understand your expectations.
Maximize Your Profit Margin
You want to be able to maximize your profit margin on the cost of flowers and supplies by following industry standard markups, with the goal to make 70% or more on the cost of it. Be confident in applying markups and design fees, so that you can provide value to your clients and turn a profit at the same time.
All additional expenses should come out of the 70% profit, and remember not to underestimate the value of your time and expertise.
Experiment and Take Risks
As business owners, we have to be open to trying new things, put ourselves out there, and that means trying something that might not work out,
And, the sooner you start, the sooner you can get the experimenting and trial & error out of the way - and be one step closer to what can enhance your business.
Every business owner and entrepreneur knows that it takes a lot of dedication, work and persistence to get closer to what may look like "perfecting" their personal brand. Practice makes better, so we need to start where we are and not let a fear of "not being perfect" get in the way of reaching our potential.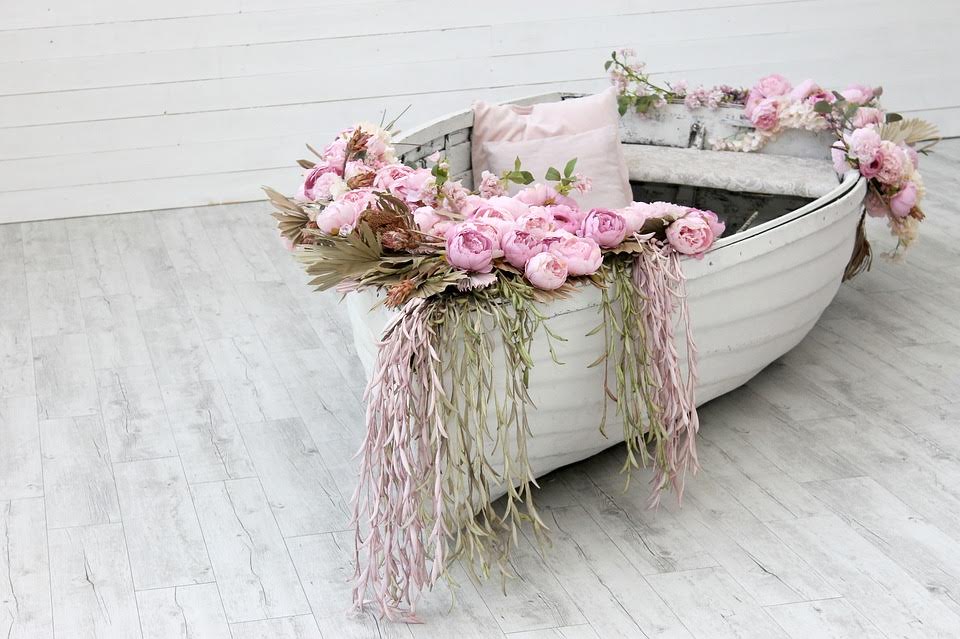 Here are some things you may want to try without waiting to have the budget or the right professional to help you out:
Record your first videos
Photograph your own design work
Get more active on social media/open Instagram account, etc.
Host live streams in your Facebook group
Instead of waiting until you had enough money or time or training before you finally start it, announce it, release it, sell it - start now, it all may help increase your sales!
Stand Out
Focus more on individualized custom products. Feature unique and hard to obtain flowers. Be unique and authentic in the way you present/wrap/package your products.
If you have a store, make your display windows and the content fresh and creative – they are your most powerful form of direct advertising. As is your website, so invest in a user friendly, attractive, easy to navigate site.
Intrigue people with sights they don't expect by displaying unique arrangements of, for instance, artichokes and other lesser-known flowers (you can always find instant inspiration on Pinterest).
Utilize Technology
Use technology to support you in automation and streamlining of your processes, so you have more time and energy for building your business.
Send out regular updates about new product lines, company news and events via emails. Have an active presence on social media and engage with your audience on a more personal level, and make sure to keep them posted about any promotions, upcoming events, etc.
Train Your Staff Well
Everyone in your flower shop should be taught and expected to sell following the best practices and with the focus on delivering stellar customer service. Live training is the way to make sure your employees understand the importance of upsell, as well as the importance of timing it well and upselling with a purpose. Upsell items and services should match your customer's floral purchase and needs.
Tailor To Events
Tailor your floral arrangements and cater to big holidays such as Valentine's Day, Mother's Day, Christmas and Easter, and to special occasions such as Engagements and Weddings, Anniversaries, Birthdays, and Memorial services.
Positioning yourself as a wedding florist is one of the most lucrative ways to grow your floral business – so if you can establish yourself on the wedding planning scene, you could secure a nice stream of high-earning gigs.
And, why not create your own random special events, as well? For example, have a "Flower Friday" when you offer 10% off; "Mystery Monday" when customers who spend certain amount receive a mystery free bouquet; or pick a day each month to be the "Rose Day", when everyone who makes a purchase takes home a free rose –possibilities are endless.
These are some of the ways to expand your brand and increase your revenue as a florist, and for all your wholesale fresh flowers and other floral supplies, turn to Schaefer Wholesale Florist (SWF), your trustworthy local flower supplier.
SWF has been serving the Mid-Atlantic area since 1958 as an importer-broker of fresh-cut wholesale flowers from around the world, proudly serving Event/Wedding Planners, Family Owned Grocery Stores, Retail Flower Shops and Wholesale Flower Shops in the Mid-Atlantic region.