With bridal and floral designs continuously evolving, we wanted to highlight some top wedding trends for 2018.
This year's design for celebrations of love plays around texture and atmosphere, wild and bold hues, color blocking, copper and bronze accents, living walls, and lush greenery installations.
2018's Pantone Color of the Year is Ultra Violet, and we are seeing this glamorous shade in a variety of beautiful floral arrangements. Iridescent and holographic touches, such as in acrylic décor, tablescape, even wedding cakes are making a big statement.
Celestial and enchanted weddings continue to be trendy; they include a lot of midnight blue colors and iridescent details. Here's an idea for bringing rings down the aisle: on a star-shaped pillow, decorated with Amaranthus, Roses, and Silver Brunia.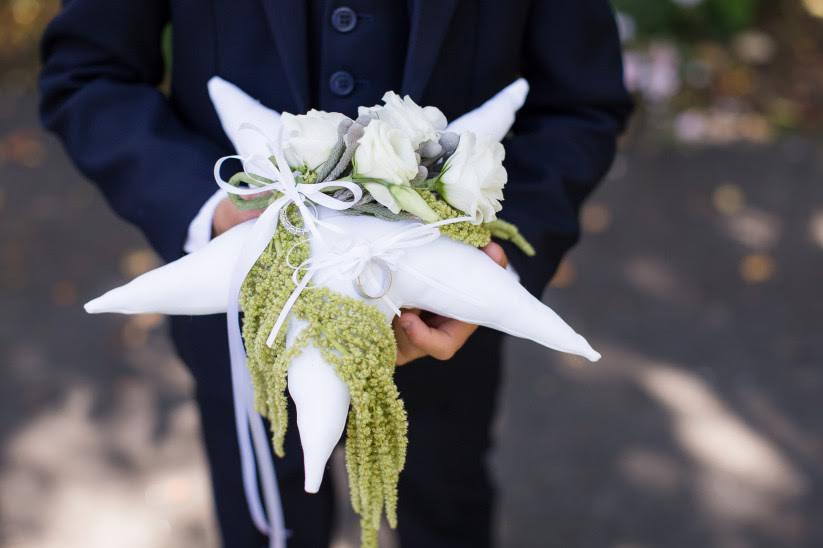 Image source: Lovely Valentine Photo & Film
Adding atmosphere and contrast to the tabletop is another design trend; for instance, feminine flowers paired with tall, dark candles.
Velvet provides luxurious, sensual feel, and is incorporated into fashion and décor, and pairs beautifully with jewel-toned hues and atmospheric palettes found in opulent detailing and blooms.
Outdoor weddings are seeing stunning greenery instead of fabric drapery. Living walls with greenery and impactful flowers offer a magnificent backdrop for photo sessions, cake and gift tables. Tropical greenery installations, often with a statement sign, are finding their ways to more and more weddings. Also, floral arches are getting even more beautiful, with circle arches and wreaths in wedding decor and bouquets becoming a new trend - a circle representing eternal love.
One of the main trends for floral arrangements this year is using a single color palette, or minimalistic blending, in order to create intensity and emphasize the beauty of the individual flowers.
Dahlias,once considered too traditional, are coming back to this year's weddings. This lovely flower offers rich petals in a wide array of colors, and blooms from May until November. Also, many floral designers are welcoming baby's breath and carnations for flower decorations and bouquets.
Roses and orchids continue to add a mesmerizing floral boost to any floral arrangement. Scoop Scabiosawill add beautiful purples, black and white colors to bouquets, arrangements, boutonnieres and centerpieces.
Bouquets of greenery, garlands, and succulents continue to be trendy for weddings this year – whether on their own or used to complement other blooms.
Have you stocked up on premium quality fresh-cut wholesale wedding flowers?
Schaefer Wholesale Florist proudly serves Event/Wedding Planners, Retail Flower Shops and Wholesale Flower Shops in the Mid-Atlantic region.
Select highest quality wholesale fresh flowers from around the world, plants, accessories and other floral supplies from a trusted wholesale florist: www.SWFlorist.com